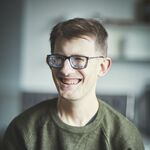 Nathan Mendel - Groom
I live in Northside (Cincinnati), working from home for Paycor as a Software Developer. I went to Elder High School (having a strong West Side family legacy) and the Rose-Hulman Institute of Technology. I enjoy sitting in the exact center of my 5 speakers and 2 subwoofers, soaking in the surround sound music or vinyl records. I often brainstorm off-the-wall ideas while exercising, like "what if I had a computer & desk setup stored in an outdoor shed I could wheel into the yard to work." Recent hobbies include video editing, running, bicycling, audio recording & mixing, photography, and piano!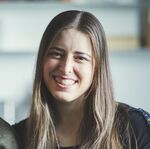 Betsy Williams - Bride
I grew up in the beautiful rolling hills of Northern Kentucky, and currently live in Ft. Thomas, KY. The youngest of 6 children, my childhood was full of books, creek adventures, tree climbing, flower chains, horseback riding, and kitten whispering. I earned a BM in Music Education at Northern Kentucky University and a MM in Music Education from Bowling Green State University. I currently teach string orchestra, Early Childhood music classes, and private violin, viola, and cello lessons through the NKU Music Preparatory department. I have also been a professional nanny for over 10 years and choose to continue caring for, training, and loving my sweet young charges several days a week! My current hobbies include making music, swimming, yoga and ballet, reading, studying educational and child-raising philosophies (Charlotte Mason, anyone?), and listening to a myriad of different podcasts. I am always down for a good tv show, movie, game night, or listening to 5.1 surround sound recordings with Nathan!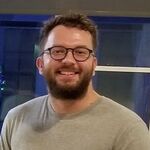 Tom Minning - Best Man
Tom, Nathan's Elder High School classmate, is a modern Renaissance man. By day, he controls the control systems that let P&G factories make a key ingredient of Tide. By night he screen prints, collects vintage maps, cares for his cacti, brainstorms ways to prepare ginger, and basks in the glow of a 5 foot high neon dog. Nathan & Tom's friendship carries on getting malts, playing StarCraft 2, and myriad other activities.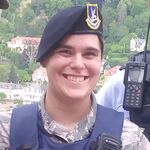 Dale Kidwell - Maid of Honor
Betsy and Dale were in the same homeschool co-op class from preschool on, but truly bonded at the age of 12 over cardboard-like cracker sticks dipped into plasticky cheese and a shared loved of Redwall books. Their friendship deepened through high school, bonding over late-night reading/paper writing on Dante's Divine Comedy, Star Wars, and the general experience of being the youngest and thus only children left living at home in their respective families. After earning a degree in Criminal Justice, Dale joined the Air Force and keeps various bases around the world safe through her work in Security Forces. Dale will sadly be absent from the wedding day, as duty to her country calls and she will be on deployment in the Middle East this summer. Betsy and Dale consider each other to be sisters, with an unbreakable bond that has bridged the many miles and the vastly different lives they now lead. Dale will certainly still join the wedding party in spirit despite being halfway around the world!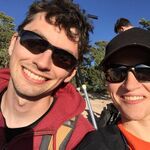 Jeff Crichlake - Groomsman
Nestled comfortably in the hills of Mt. Auburn, Jeff lives with his wife Catherine and pit bull boxer Elijah. Jeff has picked up many hobbies including guitar playing, blacksmithing, and rock climbing. Jeff and Nathan met in high school when Nathan was Video Club President (ran unopposed). Since then they have built a lifelong "Rock Climbing" friendship group(+chat) and travelled the world together, including a magical night in a piano bar in Seattle with third Rock Climber Tom Minning.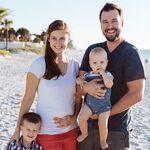 Sarah Holman - Bridesmaid
The only sisters in a house with four brothers, Sarah and Betsy shared a room for several years until many middle-of-the-night wake-ups (of their parents) with complaints of "snoring," "breathing," and a well-placed punch (who punched who is not relevant to this story) earned them their own rooms. Despite the rocky moments of any sister relationship, Sarah and Betsy did truly develop a friendship that has only deepened as adults! Sarah has always awed people with her athleticism, artistic ability, talent for languages, writing, training horses, and mind for science. After graduating college with a Pre-Med degree, Sarah met and married the love of her life, Seth, moved with him to the far away land of Florida, and is currently raising three beautiful children, two boys and a little girl who will make her grand debut in June!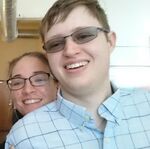 Nick Kamper - Groomsman
Nick roasts his own coffee beans, sharpens his own knives, maintains his car from oil to brake jobs, and types on an ergonomic keyboard! He lives in a fancy suburb of Indianapolis with his fiancee Laura Moss, working remotely as a software developer for Blackboard. He is the Designated Researcher of "the college groupchat."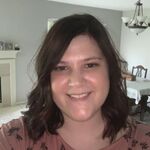 Hannah Briner - Bridesmaid
Betsy and Hannah likely met before birth and certainly by the age of four (the first video evidence of spending a birthday party together), became good friends in High School, and united with Dale to form a trio of mischief! With countless games of Monopoly, freezing camp-outs, and late-night junk food binges under their belts, it was a no-brainer to rekindle their friendship as adults when both of them moved back to the Northern Kentucky area in 2019! Hannah is into reading, traveling, and action movies. She's a social worker with St. Elizabeth Physician's and she can speak eloquently on all things involving Taylor Swift. Her perfect date would be pizza and a movie…wait, this wasn't supposed to be a dating profile? Oops. She likes people, pizza, and her cat Cleo!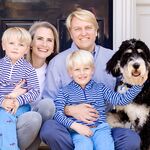 Rawleigh Pyne - Groomsman
Rawleigh slings hundred-unit apartment deals on the regular, like one of those movie stereotypes that plays golf. He married Nathan's sister Lara, and passed on his magnificent blonde hair to their two active boys. The minivan life may have taken him by surprise in Nashville, but he has no regrets!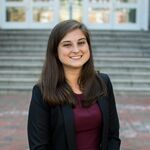 Danielle Frick - Bridesmaid
Danielle and Betsy have been close friends for the past year and a half, after meeting at a community/bible study group at their church in 2019. During this time Betsy and Danielle have worked together to show hospitality and serve others in their community; they love discussing theology, planning for the education of future children, eating oatmeal, and doing yoga together! Danielle works in Cincinnati as an IT auditor for a public accounting firm. She assists her firm in releasing third party opinions over the financial statements and internal controls of public companies…basically, she's a Rockstar with numbers! Danielle is overjoyed to stand next to Betsy on her wedding day, and to remain a dedicated friend as she fulfills God's calling as a wife.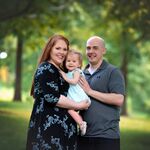 Donald Rolfes - Groomsman
Don, Tom, and Nathan were inseparable at Elder High School. They got UDF malts, they went to a dance, they cheered on the Panthers in one of the top 10 high school football stadiums, yet they all excelled academically. Donald went on to get a Masters degree and work for U.S. Bank. He and his wife Michelle had a beautiful daughter 2 years ago!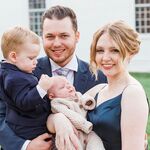 Sophia Jarrell - Bridesmaid
Betsy and Sophia met when Betsy moved to Bowling Green, OH for Graduate School. A talented violinist, ballerina, and entrepreneur, Sophia started her own ballet and music studio (while still a senior in college!) where Betsy began renting space to teach private music lessons. Betsy soon proposed adding string orchestra and early childhood music classes to the studio offerings, and the rest was history! They became business partners and close friends. Sophia is quite possibly single-handedly responsible for Nathan and Betsy's relationship lasting, as Betsy (an external and verbal processor) had to learn to communicate with a deepl internal processor (Sophia)(and also Nathan, ahem), for the duration of their business relationship! While Betsy eventually moved back to Northern Kentucky, Sophia continues to run her successful Community Fine Arts School while also raising 2 boys under 2 with her husband Michael!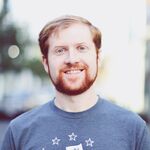 Nathan Weir - Groomsman
Nathan Weir lives on 2.5 acres of oft-snowy property near Anchorage, Alaska! The Nathans met freshman year at Rose-Hulman Institute of Technology, and quickly took to calling each other by their last names. To this day, they actively participate in "the college groupchat." Both Nathans eagerly await the day Weir buys a Power Stone arcade cabinet - the first truly 3D fighting videogame. Weir works as a software developer at NovoEd, thanks to fiber connecting him to the lower 48 - is it undersea or through Canada? Who knows!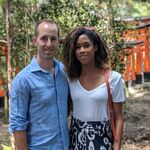 Jordan Williams - Bridesmaid
From the first time Betsy's brother Daniel brought Jordan home to meet the family, Betsy and Jordan hit it off! From playing games, to discussing favorite TV shows, to debating politics, to bonding as fellow Millennials in a mostly Gen X sibling group, Betsy and Jordan always enjoy their time together! When she's not conspiring with Betsy to remind Daniel how old he is, Jordan is a Finance Manager at AvalonBay Communities. Her hobbies include soccer, concerts, karaoke, traveling, puzzles, and board games!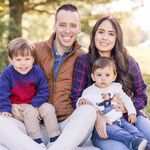 Rachel Williams - Bridesmaid
From the day Betsy first met Rachel (and heard her play piano), she firmly believed this was the woman her brother Gex should marry. Much to everyone's delight, that happy event did indeed transpire two years later! Whether Rachel is playing the piano (as a professional accompanist), baking homemade bread (from fresh ground wheat to boot), teaching her 3-year-old to read, making witty comments, or patiently caring for her family, her vibrant and kind soul blesses all who are in her path! Her two active young boys keep her busy throughout the day, and we are all eager for Baby Girl Williams to arrive in May!